Returning to the Burren after a long break in the states feels odd. Each time I leave and return, I feel renewed and am able to examine my life here through a different lens. Because I will be graduating at the end of April, this return feels particularly emotional.
The past year and a half have presented me with many challenges and hurdles--some of which I've handled with more grace than others. I have been pushed, pulled, shaped and changed as an individual, which falls parallel to the changes I have experienced in my art practice. Though I know I have matured both as a painter and in my personal life, I am now more aware of the areas where I must consciously continue to grow. The potential for growth excites me.
It's more difficult to show an image of my personal development, but I can pretty easily share my development as an artist. Below is one of the first paintings that I created during my time at the Burren College of Art and a more recent image. In the earlier painting, I was much less controlled and thoughtful in addressing my composition and color combinations. My paintings were a bit naive and innocent, but honest for who I was as an artist at the time.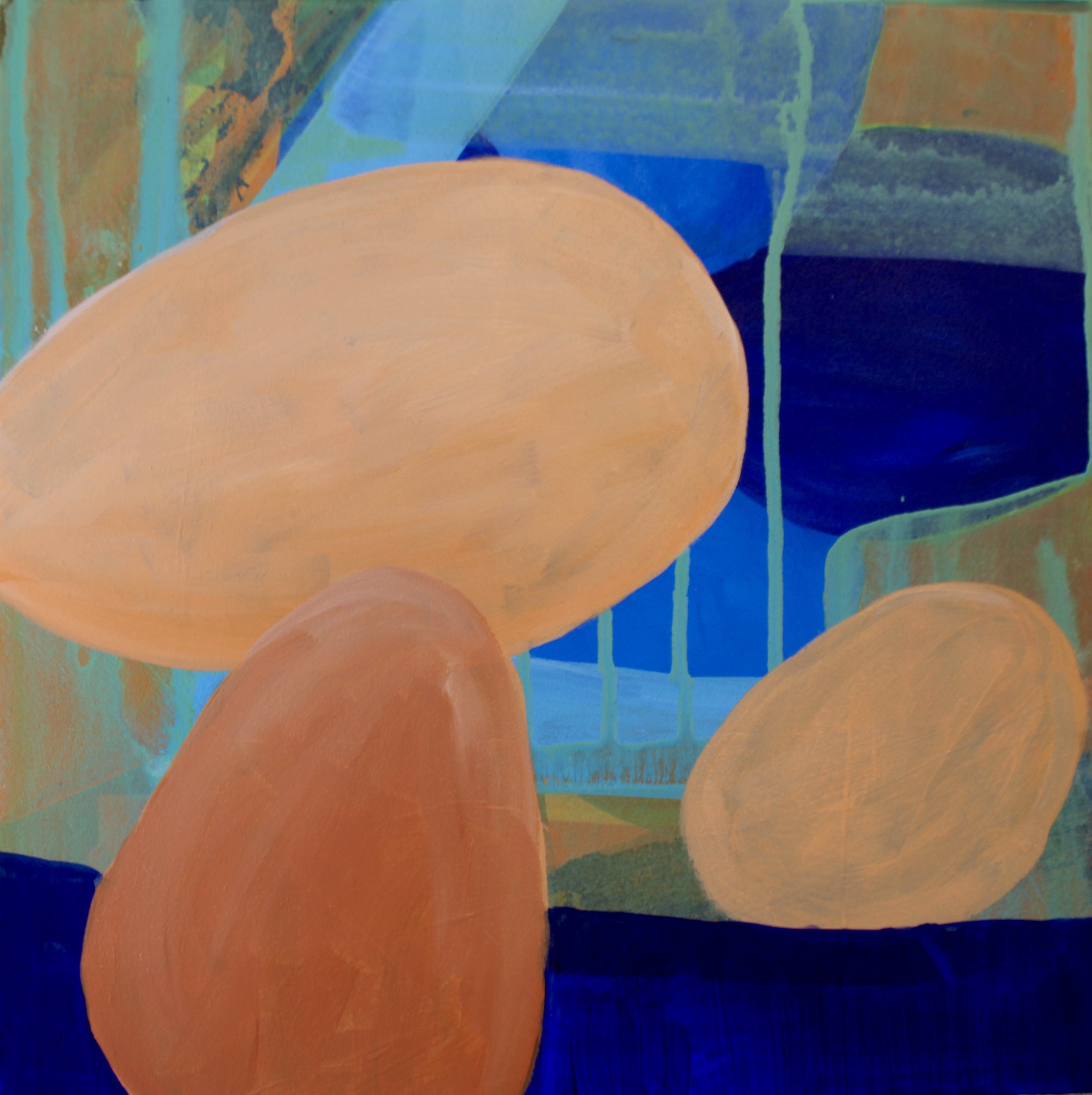 Now, I am more conscious of the relationships within my paintings and how I handle each individual work. Each brush stroke, form, color, and application of paint onto the surface is considered. I am able to continue the intuitive process of painting that I deeply enjoy, but I am not uncontrollably throwing paint at a canvas.
This development in the studio has been the result of research inside and outside the physical studio space, reading about contemporary artists and art history, consideration of color theory, and many powerful conversations with faculty, peers, and residents of the college. I am particularly grateful for the individual tutorials we get with visiting artists and professors. Today, I met with visiting artist, Kelli Connell, and one of my consistent tutors, Áine Phillips.
Kelli suggested that I look at Georgia O'Keefe's still life pairings and how they consider relationship, suggesting an emotional complexity beyond what's present in the subject matter. After our meeting, I google searched (thank you google for making art easily accessible!) and found Two Yellow Leaves (1928) and Two Pink Shells (1937). Each of these paintings depicts two simple objects. Though they were once parts of living things, they are depicted in inanimate forms. The relationship between the shells and the leaves in her paintings evoke emotion and suggest an intimacy that could be felt in an interpersonal relationship, without being human. Each object seems comforted and at ease by the presence of the other.
In looking at O'Keefe's work, I am forced to consider the feelings I create with relationships between the abstract forms in my paintings. As I work towards my final show in April, I think this reflection will be particularly important. I am fascinated by how seemingly simple ideas and images can expand into more complex thought.
In my conversation with Áine, we discussed the development of my paintings and my hopes for the final show. I vulnerably admitted to her a lack of confidence I've been feeling about my work. I enjoy painting, but the act of painting feels selfish. I could be working a corporate job or giving "more" to society, but instead, I am in a studio throwing colors on planes of material to put on a wall. She gave me a necessary reminder of the importance of art-making and how it is an inherently good act. Artists develop a visual language and contribute to society's understanding of our world. I see the importance of the time every musician, writer, sculptor, singer, ceramicist, poet, painter, drawer, conceptual artist, etc. takes to create their work. I believe the use of their time in art-making is valuable. I need to give myself the same permission so I can make work without a sense of guilt. It is a worthy act, even if it doesn't explicitly "make a difference" in bettering our world.
The next 13 weeks will be a rush of learning, reflecting, and producing as I prepare for my final group show as an MFA student and considering my next adventure in life. I'm thankful to be sharing this time of closure and transition with Katie Kramer, Morgan Madison, and Kaitlynn Webster. Here's to the final semester in graduate school with the most fabulous cohort!
P.S.- Mark your calendars to attend our exhibition opening on the evening of April 13th in the main gallery space at the Burren College of Art. I can guarantee there will be something worth seeing.