Happy Valentine's Day to all my lovers and friends!
If you know me, you know I am a lover of LOVE, hopeless romantic, daydreamer, etc. so clearly today is one of my favorite days of the year. Regardless of if I have a "special someone" to share the day with, I have always had a sweet spot in my heart for St. Valentine's Day.
In elementary school, I looked forward to giving out Valentine's Cards to each of my classmates and sharing goodies at our Valentine's Day Party. I remember being especially excited and nervous to give them out to my crushes...it's so funny and refreshing thinking back on those moments of innocence. How I made sure that I didn't give out any cards with sayings that were too suggestive...I was very intentional about my card-giving even when the notes weren't personally written.
In college, Valentine's Day meant a revolving door of chocolates, flowers, and love. Living in a sorority house with 64 beautiful women definitely aided in the extravagance and excitement of the day. Hearing the doorbell ring throughout the day and opening it each time to find a deliveryman with arms full of flowers, kept me smiling from ear to ear.
In the spirit of the day of love, I want to share a project that I began last semester. It involves Tinder and the responses of over 500 men--thank you, men.
As they have become more widely accepted, I am interested in how dating applications have shifted our ideas about initiation of love and how we navigate romance in an increasingly technological and emotionally isolated world. I live in a town with a population of just over 200 people in the Burren region of County Clare, Ireland. Here, pursuing a Masters of Fine Arts in Studio Art, I am simultaneously absorbed in the pursuit of my work and filled with emptiness fueled by a noticeable lack of people my age—particularly men. Many of the students from the college interested in having a love life resort to Tinder and other dating apps in order to meet someone within a reasonable radius.
Though I know it provides an avenue of greater opportunity for finding love, I can't help but feel a little disappointed by the lack of romance associated with meeting via a dating app. I would much prefer the serendipitous, fairy-tale, romantic comedy start of a future relationship. I dream about coincidentally sitting next to a cute man on an airplane and sparking up a conversation that turns into a fast-forming adoration or becoming best friends with a guy and slowly realizing we care for each other romantically. Because of my hopes for an interesting personal love story, I have deleted and re-downloaded Tinder several times in the past few years. I have over 2,000 matches, but I have only ever met up with two men I "matched" with through the app.
On a misty morning run through my small village, I came up with the idea to ask my Tinder matches what they believe about love. Instead of the generic greeting that a guy may expect from a new match, my matches were greeted with "What do you believe about love?" Despite their response, all who replied received another message from me: "That's just what I needed to hear, thank you!" Their responses were just what I needed to hear. Some were refreshingly thoughtful, others comical, and a few depressing or vulgar. An overwhelming amount of responses included the phrase "that's deep" and I've received a lovely collection of confused GIFs. I've gotten the lyrics of many love songs, which offered great background music as I worked through the documentation process. I received many requests for dates, the reason I am asked such a "personal" question as an opening line, and for my beliefs. I told them that I was trying to figure it out, but I believe love is simultaneously beautiful, tragic, and holding our fragmented world together. As a whole, the responses are intriguing.
I am grateful for the honesty and good humor I received through the process of this project and am thankful for the many men who put up with my curiosity. I believe many if not all of the responses are worthy of sharing. But to save you some precious time, I've selected a few and included them in the gallery below. Pardon any grammar errors or typos; these men likely sent these messages using their thumbs.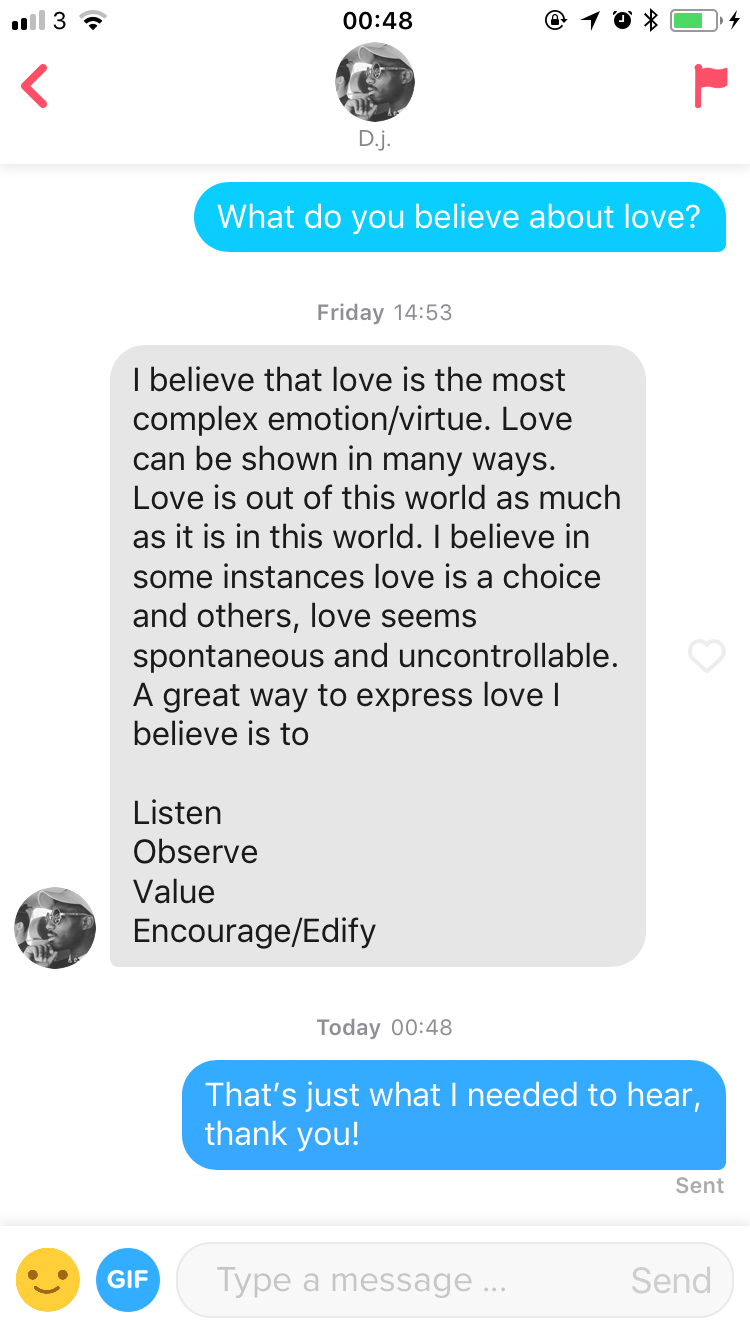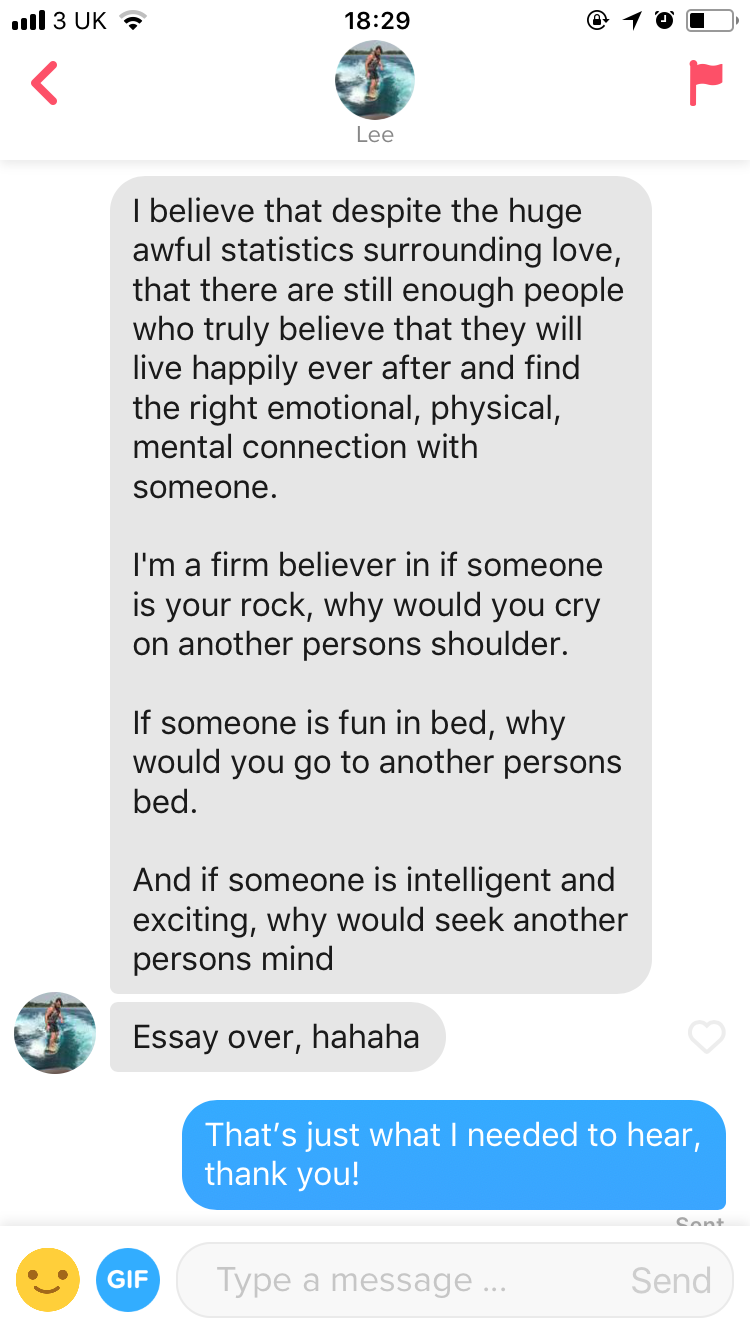 Did I draw any major conclusions or come up with any fantastic revelations from this project? Probably not. But, I'm not disappointed. Even the men on Tinder have opinions, advice, stories of heartbreak, and perspectives spanning the entire spectrum of beliefs about love. They have dreams of finding love in their futures and many of them will, though I still hope the love story for me and my future partner begins off-screen.
On that note, today not only provides an opportunity to show your romantic partners love but also to show appreciation for all people who fill your life with love in its many forms. Take time today to write a heartfelt note, play some love jams for yourself, wear clothes that make you look and feel festive, and EAT some CHOCOLATE! Let me know if you have any exciting revelations about beliefs about love....but really just do what makes you feel loved and happy.
XOXO,
Perrin